"Take on the challenge! Capture the splendour!". This is the tagline for the competition and it couldn't be more true having experienced it myself!
The moment my wife and I arrived at the exit to Putrajaya from Seri Kembangan direction, our nightmare started. There were signboards to other Precincts but not one to the Precinct One where the starting point was! Poor my wife for having to listen to my grumbling for a good 20 minutes.
First 5km
It was flat for the first 3km. So it was quite easy for most runners. I felt my pacing was too fast. "Control, control, control", I kept reminding myself. After our first U-turn, I struggled a little. My time was 21:56".
Second 5km
Saw
Kenny Tan
coming out from his "pit lane" and continued chasing Adam Loh. After conquering the second bridge (hill), I turned on my "auto-cruise". I did 25:22" in this half. My 10km time was 47:18"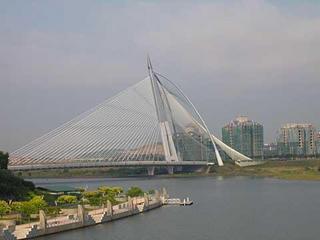 Third 5km
So surprised to see power gels being given out to the runners. Good gesture but no thanks, I ain't hungry. My stomach was full of isotonic drink! At this moment, I wished that we had some cheering teams by the roadside cheering us on to beat our boredom and tireness. My time was 24:54".
Last 5km
I will never forget this hilly section of last 4km and last 3km to go. Felt so terrible. It's like "people hit the wall, I hit the hill" kind of feeling! The hot and humid weather added to my agony! I clocked a poor 25:48".
Final 1km
My longest 1km ever in 5:34"! By now I was a total spent force... even a snail will beat me! And the many turnings didn't help at all. With 100 metres to go, I could hear some cheering from Cecil, Richard Ng and some friends. The motivation has certainly helped and I pushed all the way to the finishing line in 1:43:35!
Conclusion
I achieved my target of below 1:45. I will do more hill training to prepare for next year's race. The hill-after-hill course has overwhelmed me even being warned of it earlier.
My rating of the race (of max 6*): ****
P/S Pictures courtesy of
Penguin 1